brief history:
first lineup: captain chreehos (bass), major jimmy boom (drums), corporal joebot 1.0 (guitar/vocals), commander angel nova (guitar/vocals)

the phenomenauts start in the year 2000 in "earth's capital" oakland, california. rising up from the ashes of space patrol, a band formed in the late 90s by commander angel nova, major jimmy boom and corporal joebot 1.0. they'd dress in white jumpsuits and karate helmets, and they'd play polka and two-step covers of popular 80s hits. they lasted for about a week until nova's and jimmy's girlfriends both left them. however, they realized the songs they wrote were good enough to record. at the time they got to recording though, they decided to form an actual band instead. so they ditched polka in favor of rockabilly, got themselves a bassist and started the phenomenauts.

they decided to go with a space and sci-fi theme because of nova's car, a 1981 toyota corolla whose exterior was reminiscent of a spaceship, in which various sorts of stuff was glued onto it and spray painted silver. they called it the phenomenator.
they dressed in uniforms and made custom "phenoma-gadgets" to make their shows more interesting, such as the streamerator (a leaf blower that shoots toilet paper), the rocketerator (a modified bike pump and sprinkler system that shot cardboard rockets) and the therematic helmerator (a helmet with a wireless theremin inside, worn by joebot)
it was at around this time when they recorded their debut album, rockets and robots, it was self produced and released on arlington lab recordings. the album itself was well received in many local college stations across the bay area.
in 2002, they added a keyboardist, professor greg arius. this added a new layer of sound to their music. at around this time, they got themselves a van they called the phenomabomber alpha, which was decorated in the same fashion as the phenomenator. they also filmed a video for their song "tiny robots"

they started to gain notoriety for their "commando-style" performances. in which they'd show up uninvited to a venue, bring their own equipment to power up their gear so that they wouldn't be unplugged and play songs until security forced them to stop. such as in the california music awards and most notably warped tour 2002, in which they hid behind a dumpster, and during a set break on a nearby stage they were told one of the bands couldn't perform and if they'd like to play instead.

they released a 2-song ep with a limited run of 500, called mission transmission. in it were two live tracks.

second lineup: professor greg arius (keys/effects), captain chreehos, commander angel nova, corporal joebot 1.0, major jimmy boom.
in 2003, they followed warped tour again across the entire country. they started serving breakfast for the crew on the festival and eventually got official passes for warped tour. in a journey that spanned six weeks they gained more popularity than before. they also starred in a slasher film set on warped tour called punk rock holocaust, in which they are killed and the phenomabomber alpha gets blown up. later on in 2004, they were officially invited to play in their own stage which was dubbed the "space station" stage. they also got a new van, the phenomabomber beta. it was decorated the same way as its predecessors.
they signed to springman records, which remastered and reissued rockets and robots. in 2004, after the release of another ep called pre-entry (contained the two tracks from mission transmission, as well as three other songs) they released their second full-length album, called re-entry. a video for their song "mission" was made in early 2005, which got onto the front page of both myspace and youtube gaining over 400k combined views.
third lineup: captain chreehos, professor greg arius, corporal joebot 2.0, commander angel nova, major jimmy boom.
in may of 2005, joebot 1.0 left the band to live with his husband in oregon. his replacement was joe "jimmy" klein from the band treephort. he went under the name of corporal joebot 2.0, filling the exact same role as joebot 1.0. with him as the newest member, they recorded a song called "(don't give me that) broccoli" for sandra boynton's "dog train", as well as a cover of the stray cats song "cry baby" for "go cat go! a tribute to stray cats".

in 2008 they released their third album, titled "for all mankind". this album contained a cover of the song "make a circuit with me" by the polecats, as well as many other original songs. the cd contained an exclusive enamel pin and a package that could be folded into a rocket ship.

the band teamed up with rich fogel and erica henderson to produce an animated music video for their song "infinite frontier".

in 2009 the band had another lineup change. joebot 2.0 left the band. in the meantine, while they looked for a replacement, fm static of the epoxies would tour with them playing shows filling in as a second guitarist. eventually, leftenant ar-7 (arthur adams) was brought in as joebot's official replacement. captain chreehos also left the band, and deck chief nick wayzar was brought in as his replacement. they released a digital-only ep called "electric sheep" in 2010. after release, they went on an european tour.

their uniforms were redesigned and so was the therematic helmerator, now donned by ar-7.

with this lineup, they made a video for their song "she'll launch".

a comic book called "adventures in the third dimension" was made to promote the ep. each copy came with a colored vinyl and a digital download code.

between this album and their next, their lineup changed yet again. nick wayzar moved and therefore left the band, and was replaced with chief engineer atom bomb, a new member was also added into the mix, their name was ion o'clast and they played the keys, but also managed special effects. this era of the phenomenauts had two keyboard players adding yet another layer of sound.

fourth lineup: major jimmy boom, leftenant ar-7 (guitar and vocals) commander angel nova, professor greg arius, deck chief nick wayzar (bass)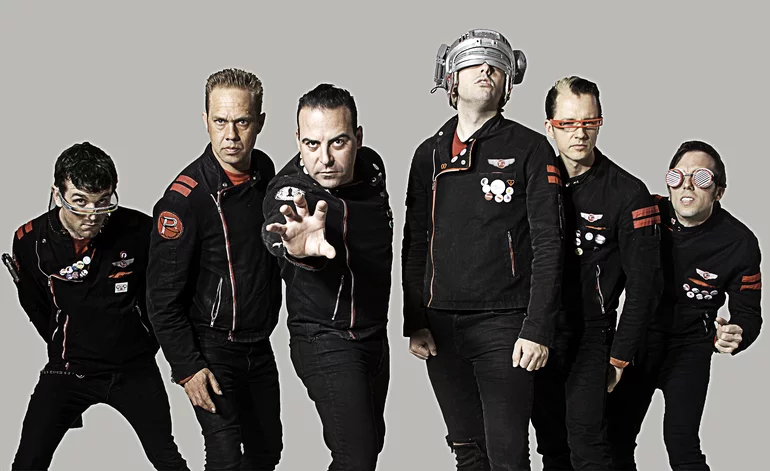 fifth lineup: chaos agent ion o'clast, major jimmy boom, commander angel nova, leftenant ar-7, professor greg arius, chief engineer atom bomb.
in 2013, the band started an online fundraiser in order to produce a new album, for the band to buy studio time and to tour. and in return, fans won rewards such as naming the album, playing laser tag with the band or winning one of the phenoma-gadgets.

this new album was released in 2014, and named escape velocity.

with this album came a new rebranding for the band. musically, it is the most diverse album in their catalogue, combining influences from all kinds of late 20th century rock n' roll. and visually, their uniforms were redesigned once again, as well as their logo.

they went on tour and ion quit the band shortly after.
in early 2015 they did a cover of rancid's "life won't wait" as part of the tribute album "hooligans united: a tribute to rancid" as well as releasing a picture disc with two new songs: "i'm with neil" a tribute to astrophysicist neil degrasse tyson, and "every day is science friday", a tribute to radio show science friday.

in 2015 also, lunar capatin ripley clipse joined the band playing keyboards, taking over from professor arius.
sixth lineup: commander angel nova, chief engineer atom bomb, major jimmy boom, lunar captain ripley clipse, leftenant ar-7.
in 2017 they released a video for their song "infinity + 1" from their album escape velocity. it's the first video by them to feature the band's current lineup, and it was shot entirely with old video equipment.

currently they still do shows around the bay area and host yearly parties in the command center, a warehouse in oakland where band members reside, rehearse and play shows at ever since the band's inception.

on february 17th 2020, the band announced they'd continue the band without angel nova, effectively reverting back to a 4-piece band and leaving only one founding member.